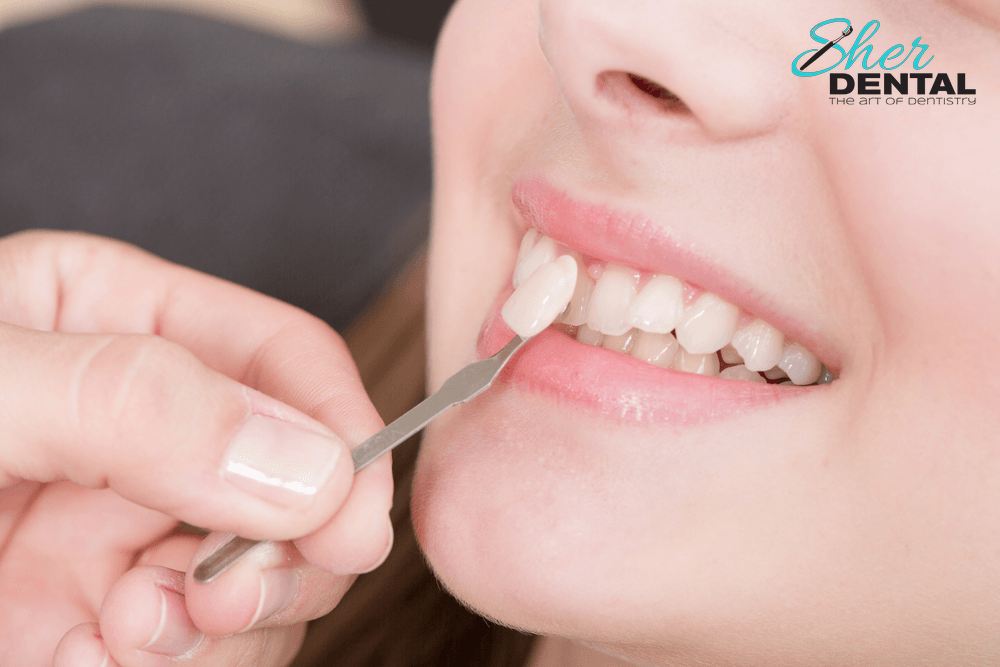 12 Oct

How Can You Improve Your Smile with Veneers?

How's your smile? Maybe your teeth are discoloured or crooked, or you've never liked them. We are here to help you. As part of our makeover, we provide veneers to Miami patients. Patients who get veneers typically have a more pleasant attitude. We're excited to offer you a smile that enhances your self-esteem and changes your life.

Schedule your free consultation with us today to get the smile you've always wanted.
What are Porcelain Veneers?
Porcelain veneers are thin shells attached to teeth to improve their look. Veneers cover whitening-resistant, crooked, deformed, and gapped teeth (diastema). The newest veneers use cutting-edge materials research to increase look, durability, and lifetime. Today's veneers look like natural teeth.
Porcelain Veneer Care
Veneers are treated like natural teeth. Proper maintenance makes veneers look great and last longer.
Here are some porcelain veneer care tips:
Maintain a healthy routine of dental care. Even if your veneers are made of porcelain or zirconia, you still need to brush them to eliminate germs and plaque. Regular brushing and flossing around the veneers prevent gum recession, gingivitis, tooth decay, and other oral health issues that might compromise your veneers.

Avoid complex objects and meals. You may damage your veneers if you bite your nails or chew ice. Like natural teeth, the extreme force can shatter veneers.

Avoid stains. Porcelain and zirconia veneers are stain-resistant. Coffee, tea, cigarettes, hard candies, berries, soy sauce, and balsamic vinaigrette can discolour your teeth.
These recommendations are generic, not specific. Follow your dentist's instructions.
Can I Improve My Smile with Veneers?
Thin porcelain shells, called veneers, are bonded to the front teeth to cover flaws and make a person look more attractive. Numerous aesthetic flaws, including but not limited to:
Teeth fractures

Disfigured teeth

Fractured teeth

Non-bleachable teeth

Misaligned teeth (malocclusion)

Gapped teeth (diastema)
Veneers are a great way to improve the aesthetics of your smile. They straighten teeth quickly, which is why "rapid orthodontics" is a common name.
Types of Dental Veneers
Veneers can be made from various materials, including ceramic, zirconia, ultrathin monolithic, eMax (lithium disilicate), and Empress®. Price, durability, and quality vary widely depending on the veneer used. Types of dental veneers offered by our Miami dentist are as follows:
Lithium Disilicate (eMax)
Emax veneers are made of ceramic glass. Emax veneers are durable, natural-looking, and maintain natural tooth material (compared to traditional porcelain veneer shells).
Empress® veneers are made of acrylic-reinforced ceramic glass—patients who grind their teeth at night or consume complex meals select Empress® veneers.
Zirconia is a newer choice (zirconium dioxide). Zirconia's strength makes it appealing. Zirconia is 500% stronger than porcelain veneers, according to research. Zirconia veneers are opalescent and can be coloured to match neighbouring teeth.
Ultrathin monolithic zirconia
Yttria bonds with zirconia. Ultrathin monolithic zirconia builds on zirconia's outstanding properties by stabilizing the crystalline link to yttria, creating a more durable material throughout the try-in period (when the veneer is checked for fit and aesthetics).
Ceramic veneers are still a viable alternative for patients wishing to save costs. Ceramic veneers are layered feldspathic porcelain to mimic natural teeth's translucence. Ceramic veneers' durability is compromised. Ceramic veneers are prone to cracks and fractures due to their high silicate content.